</P>
"In Plain Sight"
Old World Records in Ancient America
By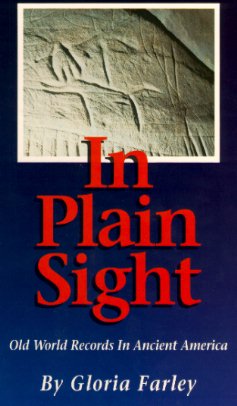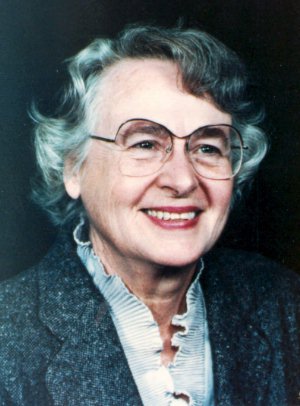 For over fifty years Gloria Farley of Heavener, Oklahoma researched, in the field and in the library, evidence of pre-Columbian visitors to North America. This research has shown the presence of people from such places as Scandinavia, Egypt, Iberia, and Libya in ancient times in the central portion of the United States. While much of this evidence consists of epigraphy(writing) also included are hard artifacts.

Her

work started as a casual investigation into a local curiosity. This investigation turned into a fifteen year quest which ended in the recognition of the Heavener Runestone as the work of ancient Viking travelers and its protection within a state park. Evidence of other visitors also came her way. These includes petroglyphs that record their names, drawings of the ships that brought them here, artifacts they left behind, and a solar observatory that they constructed to mark the passing of the seasons.

She gained many honors as a result of her work. She was named a Fellow of the Epigraphic Society, a Fellow of the Explorers Club, and a charter member of the Oklahoma Women's Hall of Fame.

Gloria Farley died in March, 2006. Before her death, she made arrangements that her research would continue through a non-profit organization, Gloria Farley Publications Incorprated. This organization will keep her publications in print and sponsor continued research into the various topics that she pursued. Donations to this effort are appreciated. They can be sent to;

Gloria Farley Publications Incorporated
1217 8th Street
Golden, CO 80401

Gloria Farley Publications has received from the Internal Revenue Service the designation of a 501(c)3 tax-exempt organization. Donations are deductable on income tax returns.

This Web site contains selected extracts from Farley's book "In Plain Sight." This 500 page book contains 540 illustrations, 338 pieces of evidence for pre-Columbian contact, and 890 references that compare Old World examples to items found in North America. This book is a detailed account of her decades of research.

To order a copy of "In Plain Sight", send check or money order in US funds, made out to "Friends of Heavener Runestone" to;

Heavener Runestone State Park
103 East Avenue B
Heavener, OK 74937

Price $40.00
Sales Tax: $ 2.40
USA S&H $11.00
TOTAL $53.40

Overseas buyers please inquire for S&H charges.

to inquire about an order contact


karry@friendsofheavenerrunestone.org
(918) 653-2241

Book extracts;
Chapter 1 The Reasons: An Introduction
Chapter 2 They Came In Ships
Chapter 3 They Signed their Names
Chapter 4 The Anubis Caves: Discovery and Development
Chapter 9 The Oklahoma Runestones
Chapter 11 The Coincidence of the Coins

Questions regarding Gloria Farley's research can be directed to;
Bart Torbert, President, Gloria Farley Publications Incorporated.
Email GFPI

OTHER HOT LINKS
Heavener High School page for Heavener Runestone
Kensington Runestone Museum
Mystery Hill, New Hampshire Page
All sorts of interesting stuff from Yuri Kuchinski
Cyclone Covey's Home Page
American Runestones Page
Amazing Ancients Page
Gordon Jacobs' "Signs of Passage" Page
Hu McCulloch's Archeological Outliers Page
Epigraphy Forum's Page of Links
Earl Syverson - Runic Cryptography

SO JUST WHERE DID THE MELUNGEONS COME FROM?


That is a question many people would like to have the answer to. The Melungeons are a little known mixed race group (part white, part Indian, part Black) whose traditional home is Southern Appalachia. While there have been several influxes of white blood into the group, the timing of the first of these is where the mystery lies. In the late 1600's when the Europeans were "first" exploring and settling what is now the Southeastern United States, the mixed-blood Melungeons already existed and lived within a culture that was quite different than their Indian neighbors. So where did all the white blood come? No one has the answer right now, but many fingers are pointed at the pre-Columbian Mediterranean visitors whose presence here in America is documented within the pages of "In Plain Sight". Visit the following sites to find out more about this fascinating people.
Melungeon Heritage Association
Melungeon Research and Links
Gowen Research Foundation
Melungeon Health Issues



THE OLMECS
The Olmecs were the first "high-tech" civilization in Central America. There is a great mystery concerning their attainment of this status. There is little evidence of a slow development of the skills needed to implement the grand scale civil engineering feats for which they are famous. They seemed to have obtained these skills overnight. This has led many to wonder if the Olmecs received outside technical assistance. Evidence has been found to show that people from both China and Africa reached Central America and may have contributed to the Olmec's rise. Visit these sites and learn more.

The African Presence in America Before Columbus
Crystal Links page on Olmecs
Article in Sinorama Magazine on Chinese Connections


This site maintained by Jean Dupree and Bart Torbert pres@gloriafarley.com

All material on this site is copyrighted by Gloria Farley, 1997

Page last updated April 18, 2007